A rich, cozy winter favorite that I remember with nostalgia. Original brought to South Africa by the Dutch, but have clearly been influenced by the Cape Malay with an abundance of spices.  Everyone has their own version, feel free to play with the flavors, but this is my take on it.
Even though you might find all the spices overwhelming, it is at the heart of true Cape Malay cuisine.  You will not regret making this wonderful heartwarming stew.  Served with buttery mashed potatoes and a simple green salad on the side, you will be bedazzled with compliments from friends and family.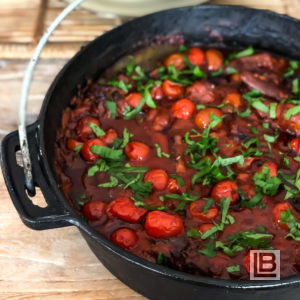 Bon appetite!
You'll need
2kg x stewing lamb with bones (The bones is where you get the most flavour!)
5-6 Tbs x all-purpose flour
2 x large onions chopped
2 x large carrots peeled and sliced
4 x cloves garlic cloves, finely chopped
1 Tbs x fresh ginger grated (roughly 3cm piece)
---
Spices
3 tsp x coriander seeds
3 tsp x cumin seeds
3 tsp x fennel seeds
8 x whole black peppercorns
6 x cardamom pods, seeds removed and pods discarded
3 tsp x garam masala
½ tsp x ground nutmeg
4 x bay leaves
8 x cloves (whole)
2 x large cinnamon sticks
4 x sprigs fresh thyme
3 Tbs x brown sugar
½ cup x red wine
1 x 410g tin tomato puree
1 x 410g chopped tinned tomatoes
250g x fresh cherry tomatoes
2 Tbs x tomato paste or sundried tomato paste
750ml x chicken/ vegetable stock
4 Tbs x apricot jam
Salt and pepper for seasoning
Handful of fresh flat leave parsley roughly chopped
Method
Preheat oven to 160°C. In a pestle and mortar, grind together the spices – garlic, coriander, cumin, fennel, peppercorns, cardamom, ginger, garam marsala and nutmeg. Set aside. (Do not grind the cinnamon sticks, bay leaves and cloves)
Heat oil in large ovenproof pot (that comes with lid) to medium-high.
Dust the lamb in a lightly with flour and sear on all sides, remove from pan.
Add the onions and sauté until softened. Add the spices and mix through for about 30 seconds.
Deglaze the pot with red wine and simmer for 1 minute.
Add the carrots, various tomatoes (not the fresh cherry tomatoes) stock, apricot jam, sugar, cinnamon, cloves, thyme and bay leaves. Check your seasoning and adjust.
Place the seared lamb back into the pot.
Put the lid on and place in the oven for 2 to 3 hours until meat falls off the bone.
Add the fresh cherry tomatoes about 15 minutes before the dish is done.
Remove the cinnamon sticks and thyme before serving and scatter with the parsley.
Serve with mashed potatoes, rice or creamy polenta.