I am yet to come across someone who does not like hummus!  Creamy, a hint of garlic and sesame on crusty bread and enjoyed with a glass of wine.  I know it is a big favourite with vegetarians and vegans but I like it simply because it is that good.
What makes this hummus slightly different is the roasting of the garlic beforehand.  For me it just softens that punch of garlic you sometimes get in hummus and it is sooooo good!!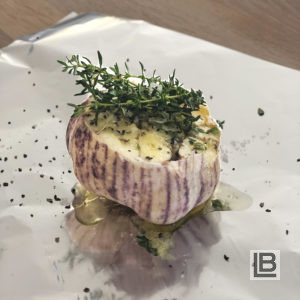 Simply remove excess sheets from your garlic bulb until you only have those wrapped tightly around the build.  (Do not separate the cloves!)  Drizzle with olive oil, salt pepper and a sprig of thyme and wrap tightly in foil.  Roast at 200°C for 35-40 minutes or until soft.
Bon appetite!
You'll need
1 x bulb garlic
1 x sprig fresh thyme
3 Tbsp x extra virgin olive oil, plus extra to roast the garlic
380g box x chick peas, drained and rinsed (drained the weight is about 230g)
2 Tbsp x lemon juice, fresh
3 Tbsp x tahini paste
¼ tsp x ground cumin
2 - 3 Tbsp x water
Salt and pepper for seasoning
Rosemary for garnish (optional)
Method
To roast the garlic heat the oven to 200°C.
Remove excess sheets around the garlic so that you only have the last bit of tight sheets intact. With a sharp knife, remove about 1cm off the top. (See picture)
Place the garlic on foil and drizzle well with olive oil. Season with salt and pepper and add the thyme sprigs on top.
Wrap the foil tightly around the garlic, place in an ovenproof dish or tray and roast on the middle shelf for about 40 minutes or until tender.
Once done, let it cool and simply squeeze the base of the garlic to allow the soft garlic to slide out.
To make the hummus, place the chick peas, lemon juice, tahini paste and cumin in your food processor. Pulse for about 1 minute.
Scrape down the sides and add ¾ of the soft roast garlic to the mix. Turn the food processor on and whilst it is running, drizzle in 3 tablespoons of olive oil and 1 tablespoons of water.
Check your mixture for consistency, if too thick, add one tablespoon of water at a time.
Continue pulsing until you get the desired smoothness.
Season with salt and pepper to taste.
Place the hummus in your serving dish and make a swirl pattern on top. Drizzle with olive oil.
Chop up the remaining soft garlic and scatter over the top with about a teaspoon of finely chopped rosemary if you are using some.