Okay so I can only speak for the shops in my area, but when was the last time you bought a rotisserie chicken??  They seem to become smaller by the day and the taste, well lets just say it is rather generic and unimaginative.  I long for the days when you could buy juicy rotisserie chicken in all different spices, hot off the grill and big enough to feed a family.  Well, I suppose one should look at the positive that there are other options to use a rotisserie chicken to feed a family of 4-6.  It is cheap, quick and you can stretch that chicken into a proper meal. Lets make Rotisserie Chicken Soup with Pasta!!!
A quick chat about the pasta.  Ideally I would like to use "orzo" but that is very difficult to find.  Instead I use semola pasta called Pignolina and it almost looks like rice.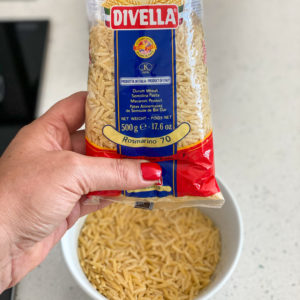 Here in in Norway you can buy it at most supermarkets and if that fails, you can use any small pasta.  I actually have bought mine from Meny and Kiwi before but there is no link available on their website at the moment, sorry!
This is the perfect soup for a cold day, real comfort food and the best part is that it is really easy!
Bon appetite!
You'll need
2 x sticks celery, chopped finely
2 x medium carrots, peeled & chopped finely
½ x medium onion, chopped
1 Tbsp x butter
1 Tbsp x olive oil
3 x cloves garlic, minced
2 Tbsp x flour
6 cups x chicken broth
½ tsp x Italian seasoning
600g x rotisserie chicken, skin removed and shredded into bite size pieces
1 cup x uncooked pignolina pasta or similar small pasta
1 Tbsp x lemon juice or to taste
1 Tbsp x parsley, chopped
Salt & pepper to taste
Method
In a large soup pot, heat the oil and butter on a medium high heat.
Add the celery, carrots, and onions and sauté for 5-7 minutes.
Stir in the garlic and cook for about 30 seconds, then add the flour and cook for another minute or so.
Pour in the chicken broth and stir until the flour has dissolved, then add the Italian seasoning and chicken. Bring the soup to a boil.
Cover the soup (lid slightly ajar), and reduce the heat and simmer for 15 minutes.
Stir in the pasta and cook for another 10 minutes or until the it is cooked through. (Keep the lid off and stir it fairly often because it tends to stick to the bottom of the pot.)
Add the lemon juice to taste and also the parsley.
Season the soup with salt & pepper. Serve immediately.
Tip : If you don't have rotisserie chicken, then place 2 x chicken fillets (600g) into the stock and let it simmer for 15 minutes. You will have to remove the chicken fillets before you add the pasta. Shred it with 2 x forks and place it back into the pot when you add the pasta.