Repeat after me. Hatch-ah-POO-ree. Khachapuri.
Khachapuri to the Georgians is what pizza is to the Italians.  It is a traditional Georgian (the country), canoe-shaped bread filled with a generous amount of cheese and topped with an egg.
It is not healthy and may induce a food coma …. you have been warned!
A healthy pat of butter is nestled on top before serving—at which point you tear off the thick, crunchy ends and use them to swirl the egg and butter into the cheese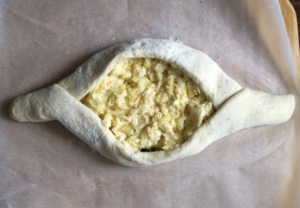 Well, there is always a weekend ahead and just maybe you skip the traditional pizza and give this a try.
Bon appetit!
You'll need
• For the dough
¼ cup x warm milk
3 Tbsp x warm water
1 tsp x white sugar
½ packet x active dry yeast
1 tsp x olive oil
1 cup x all-purpose flour, plus 2 Tbsp extra. It could be less or more depending on your flour.
1 tsp x salt
• For the cheese filling
115g x strong cheddar cheese
115g x shredded mozzarella
230g feta cheese, crumbled
• Extra
2 x eggs, + 1 egg for egg was
1 Tbsp x butter, cut into 4 equal pieces
Chives, finely chopped
Salt and pepper to taste
Method
Combine milk, water, sugar, and yeast in a large bowl. Let it stand until the yeast begins to form a creamy foam, about 10 minutes.
Add olive oil, 1 cup flour and salt. Mix with the dough with a wooden spoon until a sticky dough forms.
Turn out on a floured surface and knee for about 3 minutes, adding in the remaining 2 Tbsp flour if necessary. You want to end with a soft springy dough.
Form into a ball and place in a well greased bowl and let it rise for about 1 hour in a warm area.
Preheat the oven to 250°C.
Punch dough down and divide into two round balls. Flatten the ball slightly and place on a large sheet of parchment paper dusted with flour.
Roll out into a large oval shape of about 6mm thick, stretching out the corners as needed.
Mix all the cheeses together.
Add ½ the cheese mixture to the centre of the dough. Roll the two long sides in to form a boat shape around the cheese.
Top with the remainder of the cheese in the middle and pinch and twist the ends together.
Cut off the excess parchment around the dough; and lift dough onto a baking sheet.
Repeat the process with the other ball of dough.
Brush with egg wash.
Place in the oven for 20 minutes or until the cheese is bubbly and the crust golden brown.
Remove from the oven and make a well in the center of each khachapuri using a spoon; crack an egg inside each well.
Return to oven and bake until eggs are mostly set, 3 to 4 minutes.
Place 2 pats of butter onto each filling and sprinkle with salt and chives.
To eat the khachapuri, tear off one end and use it to stir the butter into the egg.