At a recent interview I was asked what makes a South African braai (BBQ) different to the way they do it in Norway.  After giving it some thought, I will have to say the biggest difference is the way we approach a braai.  It is a ritual, it is about taking enjoyment out of the process of grilling and it is all about caring about how and what you grill.
With you taking your time and all, your guests might be starving so it is quite okay to make a little nibble to keep them happy.  (Topping up their wine glass or another beer also works)
Anyhoo, this mushroom on toast is so simple and easy and will keep your guests happy until main course arrives.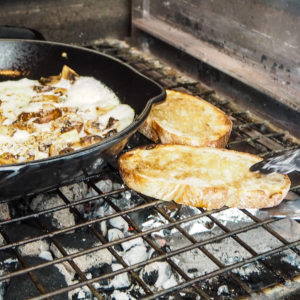 I made this for Borghild who interviewed me and she was very surprised that something so simple can be so good!
Bon appetite!
You'll need
2 Tbsp x butter
1 Tbsp x olive oil
2 x large shallots, finely diced
4 x cloves garlic, finely chopped
500g x mushrooms (any mushrooms will work. Give them a clean and roughly chopped if big)
2 x sprigs of thyme (leaves only)
Salt and pepper to taste
1 cup x cream
Good quality bread, sliced (I used sourdough)
Chopped parsley (optional)
Method
Heat the oil and butter in a flameproof pan over a hot fire, add the chopped shallots and fry until they become translucent.
Add the garlic, mushrooms and thyme, and fry until the mushrooms soften and start to brown. (your pan needs to be very hot so don't be shy about having a few flames under it).
Pour in the cream and simmer for a few minutes, stirring often, until it reduces and forms a thick sauce. (Do not let all the sauce cook away!)
Drizzle olive oil over both sides of your bread and place on the grid. Toast until it turns a golden color.
Season the mushrooms with salt and pepper.
You are now ready to serve.
Place the toast on a serving platter and scoop the creamy mushroom on top. Feel free to add chopped parsley.
Serve warm immediately.