Anyone who has hosted at their home will know that planning is key!  You have more than enough to think about and do, so the simpler you can make things for yourself the better!
This is one of those cocktails that you can start days before and all it requires is a few minutes to put this together.  Not only does it look pretty but it is really delicious!  Any leftover popsicles can be stored in your freezer for many months, ready for a glass of bubbly whenever you want to jazz things up a bit!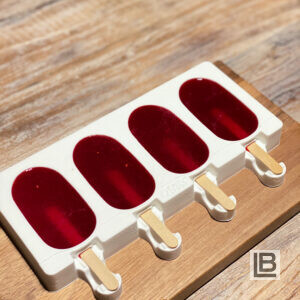 No need to use your best bottle of champagne, that would be wrong on so many levels.  An averaged price sparkling wine that you enjoy will do the job!
Cheers!!
You'll need
• For the popsicle
300g x sugar
250ml x water
2 tsp x rosewater
300g x frozen raspberries
Juice of half a lemon
8 x mini popsicle molds
8 x mini popsicle sticks
• For the cocktail
1 punnet x fresh raspberries
Sparkling wine
Rose petals for garnish (optional)
Method
Add the sugar and water in a medium size saucepan and bring to a simmer over medium heat.
Simmer for 2 minutes, remove from the heat and add the rosewater. Cool to room temperature.
In a food processor, add the frozen raspberries and cooled rose syrup and blend until smooth.
Add lemon juice to taste and blend again.
Strain the raspberry syrup through a fine sieve to get rid of all the pips.
Divide the syrup into your molds and freeze for 6 hours or preferably, overnight.
Place a popsicle into each champagne glass with fresh raspberries and rose petals, pour over the sparkling wine and serve immediately.