My history with pollen is a short one but powerful one!  
My first dish with fennel pollen was also the first dish I made on MKR (My Kitchen Rules, Norway).  We know that fennel goes beautiful with fish, so it should come as no surprise that fennel pollen works just as well.  
Then I discovered honey pollen, which I use in both sweet and savory dishes. The possibilities with these 2 ingredients are endless and the search is always there to find new and interesting recipes.  I came across this stunner from the award winning blogger Thalia Ho from Butter and Brioche  All I can say is thank you Thalia, you have created a beauty of a dessert with two of my favorite pollens! 
Fortunately for me, I have a great supplier of honey pollen and infused honeys right on my doorstep with Evasmat!  My guests on Saturday were treated to this recipe and judged by their empty plates, I would say it was a winner!
(Check out http://evasmat.no to see her great range of products)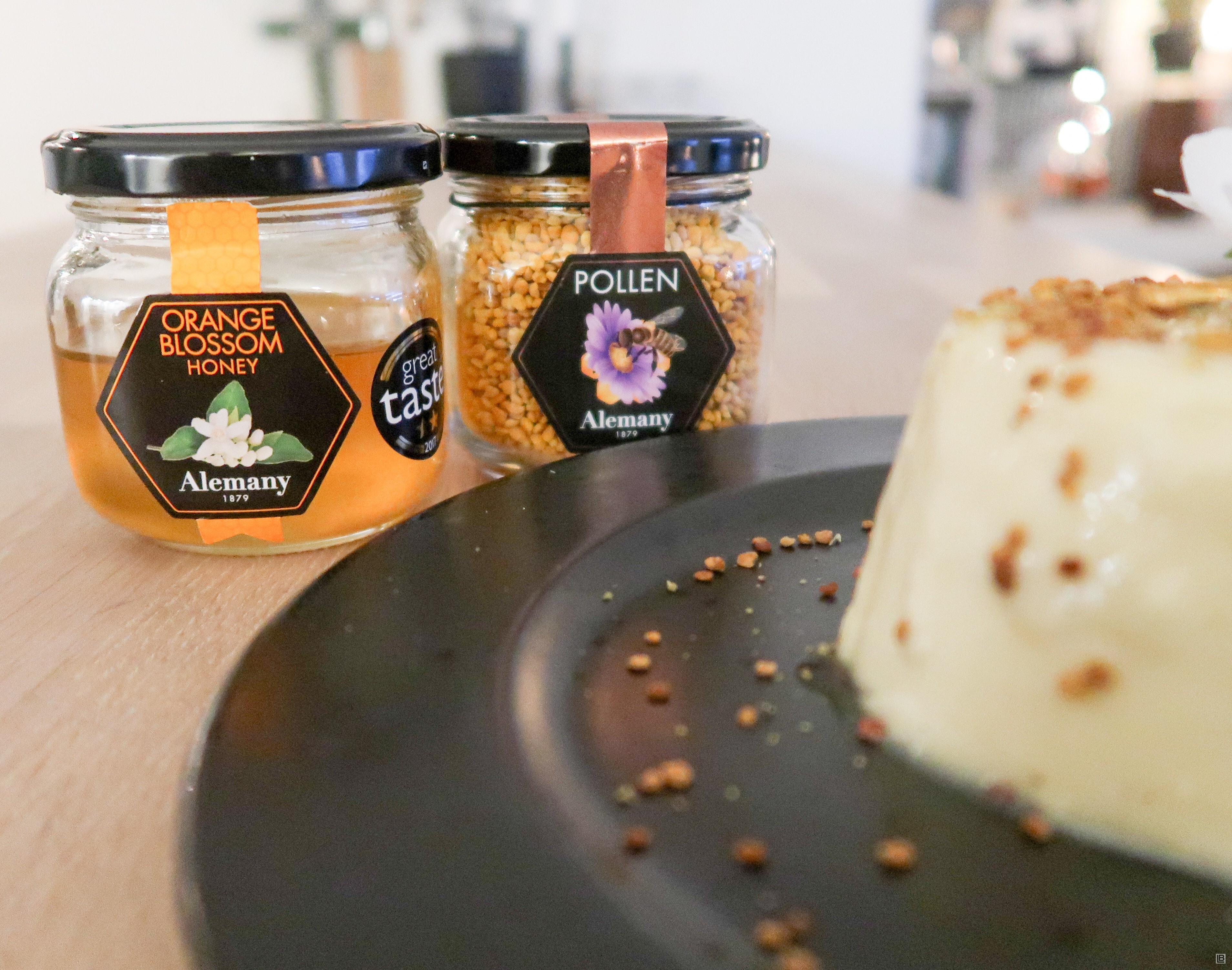 You'll need
500 ml cold heavy cream
2 tsp powdered gelatin
250 ml buttermilk
100 g orange-blossom honey (http://evasmat.no/butikk/alemany-appelsinhonning/)
1 vanilla bean pod, split and seeds scraped
1 tsp fennel pollen
1/4 tsp salt
100 g white chocolate, finely chopped
Bee pollen for garnish, optional (http://evasmat.no/butikk/biepollen/)
Method
Pour half the cream into a small bowl. Sprinkle over the gelatin and give the mixture a gentle stir. Set it aside to bloom, about 5 minutes.
Place the remaining heavy cream, buttermilk, orange-blossom honey, vanilla, fennel pollen and salt into a large heavy saucepan. Pour in the bloomed gelatin and cream mixture. Set the heat to medium-low. Stir with a wooden spoon until smooth and combined. 
Increase the heat to medium. Cook, stirring often until small bubbles start to surface around the edges of the saucepan. 
Remove from the heat and gently stir in the white chocolate until smooth. Set the mixture aside to steep, about 20 minutes.
Meanwhile, lightly brush six to eight moulds or ramekins with a little bit of neutral oil. Set them aside on a baking tray.
Once the mixture has infused and cooled slightly, place a fine-mesh strainer over a large bowl. Strain the mixture, making sure to discard of any lumps or large pieces of fennel pollen. 
Ladle the mixture into your prepared moulds or ramekins. Then, place them in the refrigerator to chill until firm, about eight hours, or preferably overnight. 
When you're ready to serve, place enough hot water into a shallow baking dish so that it reaches halfway up the sides of the moulds or ramekins. Set a panna cotta into the hot water for about 15-20 seconds then immediately invert it out and onto a serving plate. Repeat with the remaining panna cottas.
Garnish the panna cottas with a sprinkle of bee pollen, a strip of candied lemon rind.
For Ottolenghi´s candied lemon, use a vegetable peeler to shave off wide strips of zest (avoid the white pith). Cut into 1-2mm thick slices, or julienne, and put into a small pan. Squeeze the lemon, add water to make up to 100ml and pour into the pan. Add 35g castor sugar, bring to a light simmer and cook for 12-15 minutes, until reduced to about a third. Set aside to cool.