For me there is nothing more satisfying than dumplings or potstickers.  A potsticker is a dumpling that you fry, so there is a slight difference.  For potstickers you will use Gyoza wrappers which is thicker than wonton wrappers.  Both can be bought at your Asian store.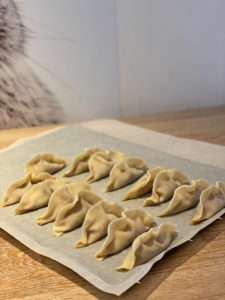 This one involves no difficult folding techniques.  You simply wet the edges and fold the wrapper in half over the filling, press down the edges to seal it completely.  Place it down on its bottom to flatten out and the top edges will form this waive pattern.
If you are up to it, you can double this recipe and freeze the uncooked lamb potstickers for another day.  They fry perfectly fine from frozen.
Drizzle over my version of "Marion´s Kitchen" Chilli and Sichuan oil which you can find here.
Serve with soy sauce.
Bon appetite!
You'll need
150g x lamb mince
2 tsp x whole cumin seeds
1 x egg
2 Tbsp x rice wine vinegar
1 Tbsp x soy sauce
½ tsp x dark soy sauce (If you don't have, then double the soy sauce to 2 Tbsp and add ¼ tsp of white sugar)
2 tsp x fresh ginger, finely grated
4 Tbsp x spring onions, finely slice (Reserve some of the green parts to garnish the dish)
20 x gyoza wrappers
2 Tbsp x vegetable oil for frying
Soy sauce and Chilli oil to serve
Method
Add the lamb, egg, rice vinegar, soy sauce, ginger and spring onion to a large bowl.
Use a mortar and pestle or a spice grinder to grind the cumin between a mix of powder and crushed seeds, add to the lamb and mix well.
Place a tablespoon of filling onto the centre of a dumpling wrapper.
Moisten the edges of the wrapper with water and fold the wrapper over the filling in half. Press down to seal the edges. Place the dumpling onto a lined tray, pushing down to create a flat bottom and waive pattern at the top. (See my picture above)
Repeat with remaining filling and wrappers.
Heat the vegetable oil in a large non-stick frying pan over high heat. Add the dumplings and wait about 2 minutes for their bottoms to crisp up and turn golden.
Then pour in enough water for it come about halfway up the side of the dumpling. Cover with a lid and allow the water to steam and cook the dumpling for about 5 minutes.
When the water has almost evaporated, remove the lid and let the pan continue sizzling until the water is completely gone and the dumpling bottoms are super crispy.
Transfer the dumplings to a serving plate. Drizzle with chilli oil and garnish with the green parts of spring onion.
Serve with soy sauce for dipping.