I always like to serve a canapé at my dinner parties with a glass of champagne or wine.  It just sets the mood for the evening ahead!
This is one of my go-to canapés and inspired by a dish I had at a restaurant in Catalonia called Quatre Molins.  I have played with the flavours and ended up with something pretty close to the original.
I purchase my orange blossom honey and bee pollen from Eva´s Mat in Norway and for the rest of the world, most speciality or health shops will stock both these products.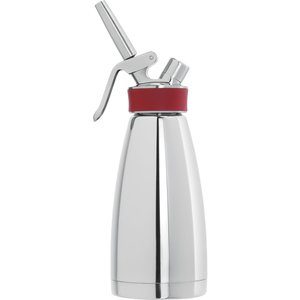 iSi 0,5lt
Having an iSi is a great investment for any amateur cook who wants to be a bit more adventurous in the kitchen. It is no longer a kitchen tool just for chefs, you have countless of options bringing creativity to your dishes with this gadget!  Most kitchen supply stores sell them nowadays and for this recipe, you are going to need one.
Bon appetite!
You'll need
½ cup x full-fat sour cream
½ cup x buttermilk
¼ cup x blue cheese, crumbled
1 Tbsp x red wine vinegar
Salt
3 x endive/chicory heads (Leaves seperated, washed and dried)
Chives (finely sliced)
Orange blossom honey (Any good quality honey will work)
Bee pollen
Method
To make the foam, combine the sour cream, buttermilk, vinegar and cheese in a blender and puree until very smooth.
Taste for seasoning and adjust with salt if necessary.
Pour it into the canister of a 500ml iSi Gourmet Whip Plus siphon. (I pour through a sieve into the canister to make sure that there are no lumps which can block the mechanism)
Charge the siphon with one iSi cream (N20) cartridge according to the manufacturer's instructions.
Shake the siphon and refrigerate until well chilled, 30 minutes.
To plate, arrange the endive/chicory leaves onto your serving plate. (I only use the bigger leaves)
Hold the siphon upside down and shake it. Press the lever to release the foam onto the leaves.
Drizzle with orange blossom honey.
Lastly, sprinkle with chives and bee pollen.