My favourite blogger to follow for all things cocktails has to be Amy Traynor, a New Hampshire-based photographer, cocktail designer and forager.  I have been following her at Moody Mixologist since 2018.  Everything you need to know about original and classic cocktail recipes, tutorials, botanical ingredients and exploring unusual syrups, infusions, and techniques, you will find on her website.
She has also launched a new book "Essential 3-ingredient Cocktails"  which will help you master the craft of home mixology and show you how to make fantastic cocktails from the comfort of your home, without prior experience or lots of fancy equipment and ingredients.  I have ordered mine, if you like to learn more about the art of mixology, I can highly recommend this book!
I have followed Amy´s instruction on making Lilac syrup but I noticed very soon that I lost quite a bit of the liquid after the first press.  I added another ½ cup vodka before I did my second infusion and added 4 cups of lilac blossoms on the 2nd and 3rd infusion.  You might be wondering why I deviated from the recipe but here's the thing, Syringa (Lilac blossoms) have a very short season and I did not want to do all that work and not have enough to see me through for a few months.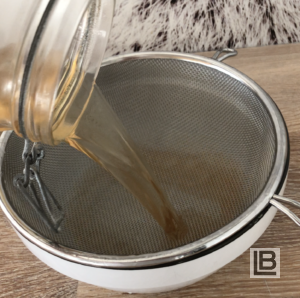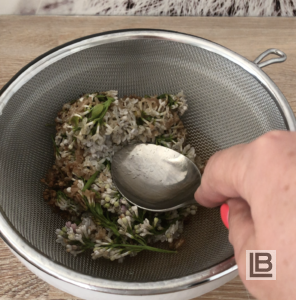 Straining and pressing out as much possible liquid.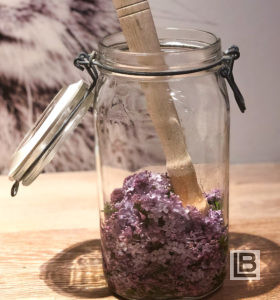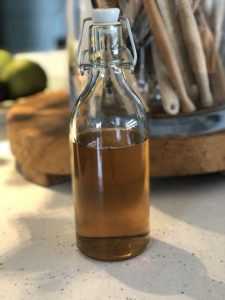 Making sure the blossoms are submerged in the vodka and the almost "tea-colour" at the end.
The cocktail itself is not difficult to make, but there is a bit of patients involved in making the lilac syrup, but not difficult at all!  I picked so many lilac blossoms, filled vases of them in my home and still add some left.  For fun I made some creative ice cubes which I can use to spruce up some cocktails.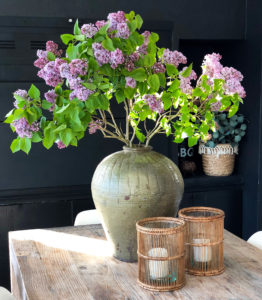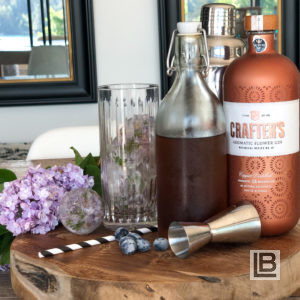 I really enjoyed the process of making the Lilac Syrup, there is something very satisfying about picking the flowers and creating something this delicious.
Cheers and enjoy!
You'll need
• To make the Lilac syrup
2 x cups vodka
12 cups x lilac blossoms (4 on 1st infusion, 4 on 2nd infusion and 4 on last infusion)
1 cup x Sugar
1 cup x Water
• To make the Lilac Gin Lemonade
45ml gin (A floral gin works best, I have used Crafters)
15ml x lilac liqueur
Lemonade
5 frozen blueberries (optional, for color)
Method
To make the Lilac Syrup - Gather 4 heaping cups of lilac blossoms, giving them a good shake to remove any bugs or debris.
Remove the stems/woody parts, but you can leave the clusters intact. The lilac nectar is found at the base of each flower, so if you pluck them off individually, a lot of that beautiful scent will be lost.
Place lilac blossoms in a large mason jar and cover with 2 cups of vodka. Use a spoon to press the flowers down, ensuring that they're fully submerged in the liquor. Cover and place in the refrigerator overnight.
The next day, use a fine mesh strainer to strain the vodka/lilac mixture. It will have a brown, tea-like color.
Use a spoon to press out as much possible liquid out of the blossoms.
Discard flowers and add another 4 cups of fresh lilac blossoms to your mason jar. Pour the strained vodka mixture over, press down with a spoon to submerge the blossoms in the liquid and return to the fridge again overnight.
On day 3, repeat the process of straining, adding fresh lilac blossoms, cover and refrigerate. This is the third and last infusion.
On day 4, make a batch of simple syrup by heating equal parts water and white sugar, stirring until all of the sugar has dissolved, and let it cool.
For this recipe you will only need ½ cup or so for the lilac liqueur, but if you have a spare jar or bottle, then store the leftover syrup for making cocktails on another day!
To finish off the Lilac syrup, start by adding a ¼ cup of simple syrup and taste. If it's not sweet enough, then add more up to ½ cup of simple syrup.
Pour the finished mixture into a clean storage bottle and store in the fridge to ensure a long shelf life
To make the Lilac Gin Lemonade, add gin, lilac liqueur and blueberries to a shaker with ice and shake well until chilled.
Strain into a tall glass filled with ice and top with lemonade.
Garnish with fresh lilac blossoms and paper straw.