Braai broodjies (toasted sandwiches) are as South African as you can get.  I actually think many people have a braai (BBQ) just as an excuse to make these moreish toasted sandwiches.  You get different versions of braai broodjies and many arguments have pursued as to what you put in or how you grill it.  I´m not going close to that argument, but my father believes in only having tomato and onion on it, me however like the full house version with tomato, cheddar cheese, onion and a good helping of freshly grounded black pepper.
I have my own version and tips of how I do my broodjies on the BBQ.  For instance, fresh white bread is too fragile and tends to fall apart and therefore I use stale bread. I don't like the crusts on broodjies, they tend to be dry and tasteless, and so I cut mine off.  If you are living in Norway, I would suggest you use "toastbrød", its the perfect texture for these delicious grilled sandwiches.
There isn't really a recipe as such; more a method and I will encourage you to play with the concept and technique to create your own special version.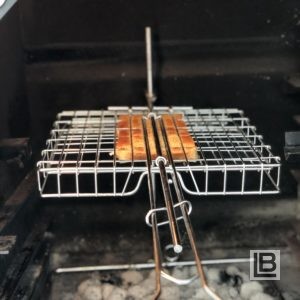 Bon Appetite!
You'll need
8 slices of stale white bread, crusts removed
Butter (not margarine!)
4 Cheddar slices or enough to cover the whole sandwich
2 Tomatoes, sliced thinly
1 Onion, sliced thinly into rings (White or red onion)
Salt & freshly ground black pepper
Method
Braai broodjies are usually done towards the end of your braai when the coals are medium hot. If you are using a gas grill, make sure you turn the heat down to medium/low.
Start by spreading a thin layer of butter on 4 slices of bread. This will be your inside.
Layer the 4 slices with tomato. Season with salt but be careful not to season too much, you have the salty cheddar as well. Go wild on the freshly ground pepper, to me this is what makes the broodjie stand out!
Follow this layer with slices of onion and finally the cheddar cheese.
For the remaining slices, I usually spread a thin layer of fruit chutney on the inside but if you don't have any, a thin layer of butter will work as well.
Place on top of your first prepared layer.
Smother the outside of the broodjie with more butter, lots of it! Make sure you catch the outer edges as well.
To make it easier to handle, I usually layer them on wax paper.
Place the slices on a handheld grid, preferably one that has a closed-hinge.
Place on to medium coals and toast until golden on both sides. Through trial and error, I have found that turning them often and opening the grid after each turn, works the best for me. It stops the bread from sticking to the grid wires.
Remove when done, slice in half and serve immediately whilst warm.