Nowadays there's plenty of ways to make sphere ice-balls.
You can use a machine that makes Ice Balls (but costs a lot) or take a large chunk of ice and start carving and melting it until you have a sphere …….  that's hard work by the way.
Silicone Ice or plastic molds provide an inexpensive way to make spheres of ice that is fast, simple and easy to do again and again making more than one sphere at a time.  You can keep it simple or add garnish of your choice.  The more acidic the addition (like limes or lemons) the less clear the ice-ball will be.
There is plenty of mould out there like the SUMPRI or the plastic one I am using available in Norway here.
I usually make these molds over a 3 or 4 day period and store them in my freezer for the odd occasion when I want something a little fancier in my cocktails.
This is also a great way to freeze berries that's at the end of their shelve life.  Before they go completely mushy, quickly pop them into a mold with a few mint leaves and you have yourself a pretty sphere to add to those summer long drinks or even to spruce up your glass of water.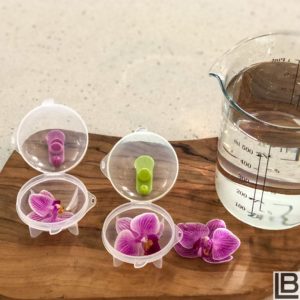 Place the mini orchids in the bottom of the sphere.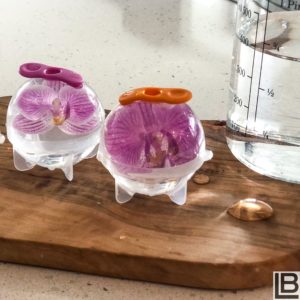 Close the mould and fill with distilled water.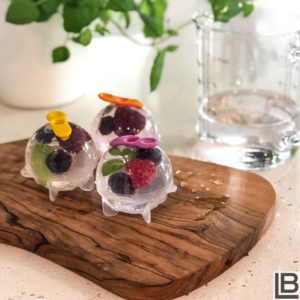 Or, add berries with mint leaves to spice up a drink or glass of water.
You'll need
Your choice of silicon and plastic mold
1 lt x distilled water (not carbonated)
Your choice of garnishes
Non-pesticide mini orchid flowers or any small edible flower
Berries with mint leaves
Fruit (non-acidic)
Method
Place your garnish in the bottom halve of the mould.
Close the mold and fill with distilled water to the top.
I use a toothpick to get rid of any air bubbles that might form on the inside and to manipulate my garnish to be in more or less the position I want them before I seal the mold.
Place on a flat surface in your freezer for 6-8 hours.
To remove the ice sphere, run under a tap of cold water to loosen.
Use immediately or store in a freezer bag.