I love Asian food and especially during summer! These Vietnamese spring rolls are just so versatile, fresh and relatively easy to make.  You can use any filling of your choice! Salmon, prawns, chicken, pork, beef or even keep it vegetarian with a tofu substitute.
The most important part is prepping the vegetables before you start.  Julienne your vegetables, pick off the leaves of your herbs and prepare the glass noodles as per the packet instructions.
I did not have the best day yesterday (like we all have from time-to-time) and I needed a little comfort food and a glass of wine ASAP!!  You don't need a bad day to make these though, any ol´day is an excellent day for these spring rolls!
I've included a step-by-step pictorial on how to make these  rolls.  I hope to see plenty pics of your master work on my instagram account!
Bon appetite!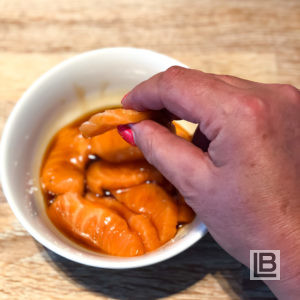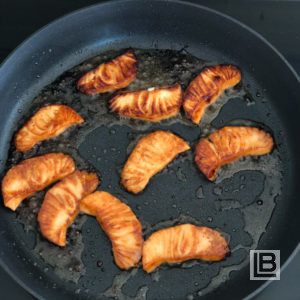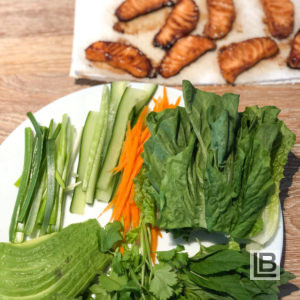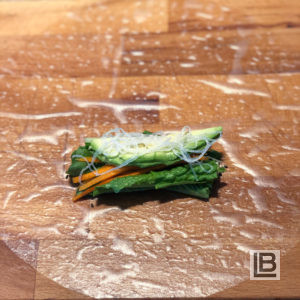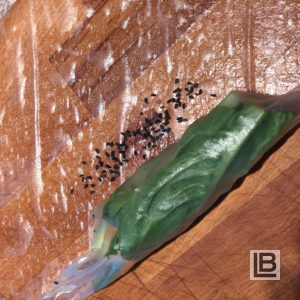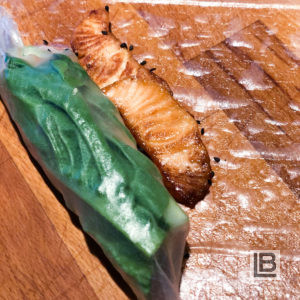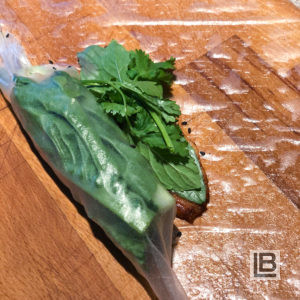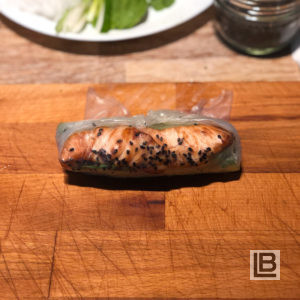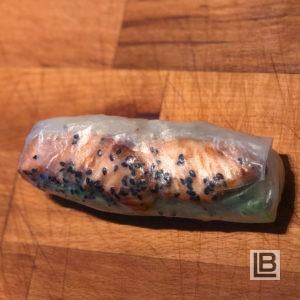 You'll need
• For the rolls
200g x fresh salmon
4 Tbsp x teriyaki sauce
4 x rice paper sheets (large)
¼ x cucumber, deseeded, julienned in ±10cm pieces
1 x carrot, julienned in ±10cm pieces
2 x spring onions, sliced lengthways in ±10cm pieces
½ x avocado, sliced lengthways, ± 2-3mm thick
A handful of soft lettuce or any other soft salad leaves
Cooked glass noodles (follow recipe on package)
Fresh herbs of your choice. I used basil, coriander and mint
Black sesame seeds (optional)
• For the dipping sauce
½ cup x hoisin sauce
Sriracha to taste
1 tsp x sesame oil
Method
First start by placing the salmon in the freezer for about 10 minutes. (It makes it easier to slice thinly)
Whilst that is freezing, start by cutting your vegetables into same size portions. (I have tried to keep everything about 10cm long)
Place all your vegetables, herbs and prepared glass noodles to one side ready for the assembling process.
Slice your salmon into 5-7mm pieces and place in a bowl with 4 Tbsp teriyaki sauce. Leave for about 5 minutes.
Add a small amount of oil to a frying pan and heat to medium hot heat.
Fry the salmon for about 45 seconds on both sides or until slightly golden and caramelised on the edges.
Drain on kitchen towel paper.
Select a dish that is slighter bigger than your rice paper sheet and fill it with hot water. (Bath temperature)
Do NOT soak your sheets in the water. Hold it at an angle and rotate it through the water until it feels pliable.
Place on your work surface and you are now ready to start your rolls.
Image about 4 quarters on your sheet. Start by placing the salad leaves in the 2nd quarter from the bottom.
Top with cucumber, carrots, spring onions, noodles and avocado.
Now fold the 1st quarter over to keep everything secure.
Sprinkle a few sesame seeds on the 3rd quarter and place your salmon and fresh herbs on top.
Roll the vegetable part over the salmon. At this stage you can fold the sides in.
Continue rolling until you have a nice cylinder shape.
That is one down, and 3 more to go with the same procedure.
To make the dipping sauce, simply add sriracha to the hoisin sauce. I did not specify quantity because I like my sauce pretty spicy.
When you are satisfied that you have the right blend, add a teaspoon of sesame oil, mix and place in a dipping bowl.