Those who have been at my home will know this canapé very well, it is definitely one of my favourites and really easy to make.  Your guests will be mighty impressed by the presentation and explosion of taste.
I have made this canapé for 300 people at last years "Det Store Bjørnefjordenmåltidet 2019" and it was also a dish I prepared for the MKR Norge finals competition.  It is absolutely fantastic and in 10 minutes you can serve up a canapé worthy of any high end restaurant.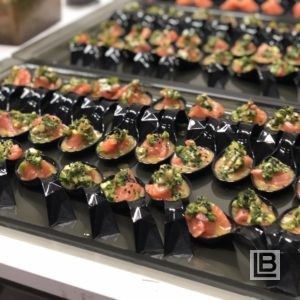 300 canapé spoons served at "Den Store Bjørnefjordenmåltidet in 2019.
Bon appetite!
You'll need
250g x Fresh salmon, sushi grade
• For the Dressing
1 x lemon, zest and juice
1 x lime, juice and zest
2 Tbsp x soy sauce
2 Tbsp x sesame oil
4 Tbsp x olive oil (neutral flavour)
1 x clove garlic, finely grated
1 x red birds-eye chili, seeds removed and finely chopped
2 x spring onions, thinly sliced
Handful fresh coriander, finely chopped
Sea salt and freshly ground black pepper to taste
Castor sugar to taste (I usually add 1 tsp)
10 x Japanese serving spoons
Method
Start by placing your salmon fillet in the freezer for 10-15 minutes. It just makes it a bit easier to slice thinly.
To make the dressing, whisk all the ingredients together, season with salt, pepper and sugar to taste.
To serve, slice the salmon thinly and arrange 2 slices per serving spoon, overlapping the slices slightly.
Spoon over the dressing and leave to marinate for 5–10 minutes.
Tip : Do zest the lemon and lime before you juice them.