There is a hashtag on social media that says #traveltoeat  (travel to eat), that would be me…..
Nothing gives me more pleasure than trying something new or different when I am travelling.  There are some creative thinkers out there and I always come back home with a new recipe that needs to be tried.
Now, patatas bravas is not a new dish.  It is native to Spain and it typically consists of white potatoes that have been cut into cubes and then fried in oil and served warm with a spicy sauce.  This would be the standard version but there are many variations out there.
There is this little gastrobar called Espai Vi in Tarragona, Catalonia.  I am a regular whenever I visit the area and the magic that comes out of that tiny kitchen is astounding!  I respect the fact that they only use local fresh produce and as they are a gastrobar, you will find an amazing selection of wines including the natural and ecological varieties.
Their menu is seasonal and always changing but this one time I tasted one of their patatas bravas dishes.  (Sadly it has not been back on the menu in the times I visited afterwards)  This is my interpretation and it could not be simpler!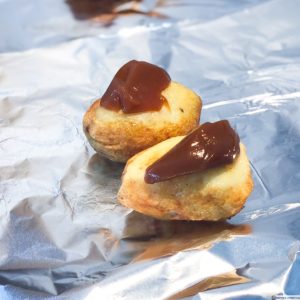 When I made this recipe for the first time, I deep-fried my potatoes in vegetable oil after they had been boiled.  I soon realised that this step is not really necessary.  All it does is to help keep the potato in one piece whilst being cooked on the fire but if you make sure not to over boil the potato in the first place, this step is not necessary.  (It also shows you what gelatinous jelly "gelé kraft" stock looks like)
Lets talk about the jelly stock a bit more.  The ideal jelly stock would be the homemade kind and if you have some, by all means use it!  I have no problem using readymade stock when the need arises and my favourite stock to use would be Knorr Professional which you can buy here, alternatively this or this will be your other options.  (Note that I am not sponsored at all by anyone, these are just my suggestions)
Do not underestimate the deliciousness of this dish.  Yes, it is simple but hands down it is up there with some of my favourite potato dishes!
Bon appetite!
You'll need
4 x medium sized potatoes, peeled
4 Tbsp x gelatinous jelly stock, I used chicken stock and in Norway it is called "gelé kraft"
Foil
Method
Start by peeling your potatoes and if they are big, cut them in half.
Place in a pot of cold water and bring to a boil. (Do not add salt as your stock usually has a decent amount of salt in it)
Turn the heat down to a simmer, place the lid on and simmer for about 8-10 minutes.
NOTE : It is important that you do not overcook the potatoes! They still need to be slightly firm as they will be cooking further on the BBQ.
Drain the potatoes from the water and let it stand in the colander for about 2 minutes to dry a bit.
Transfer onto a double layer of foil and spoon a tablespoon of stock onto each potato. (You can do it individually or 2 potatoes per foil packet)
Wrap up tightly and place onto the grid (gas grill) or on the side of the fire if you are using wood or charcoal.
I usually place the potatoes on the side of the fire when my coals are ready and turn them 90° degrees every now and then to get a good colouring all over.
The potatoes will absorb the stock and develop some crispy bits that's slightly charred. (that's the good part by the way)
When ready, carefully unwrap the foil and serve warm.