As I was walking through our little Os (the town I live in situated in the Bjørnafjorden Community in Norway), I struck up a conversation with a passer by and she started to chat about my table styling.  "They are so pretty but they look very expensive!"
Of course the compliment felt good but I was also horrified that people would think that about my table designs!!!!  Depending on the client I am styling for, some can run into the thousands but generally most of my clients work on a budget.  However, it did make me think if my designs are affordable?????
So,  I decided to take up the challenge to proof that a beautiful, stylish table centrepiece is within everyones reach!  I am not very good at showing people the process of my DIY projects and I have great respect for those bloggers who go through each step, taking a little video or photo.  Let me tell you, it is hard work, time consuming and 100% dedication!!
Anywho, my Christmas centrepiece challenge has the following items :
Recycled cardboard box lid.  (I took the lid of the advent beer case I bought my husband for our 12th year wedding anniversary.  Trust me, he is not interested in the box and it would have ended in the recycle bin eventually)
Black wrapping paper.  (You can of course use any colour you want depending on your own design and colour scheme)
White moss.  (I would like to say that I went out to the woods and foraged the white moss, but no.  I took the easy route and bought it.  Had a chosen green, I could have found it in my backyard but I have seen just one too many Christmas tables with green moss, no thanks!)
Dried hydrangeas.  (This is something I have been doing for years!  When you see that beautiful hydrangea starting to look a little drab and at the end of its life, cut the flower and hang it upside down to dry out)
More dried flowers.  (We have been very fortunate that dried flowers has been very "in" this year, so I grabbed a few stems from my vases to use as fillers)
Bling-bling.  (I used a few Christmas baubles, pinecones and a string of gold stars)
Candles.  (You can use any long candle, as long as they are stable and not prone to fall over.  If you are using the long thin standard candle, make sure to secure it in a low candleholder which you can hide with your moss)
Tools.  (I used a stapler, scissors and duct tape)
LETS DO THIS !!!!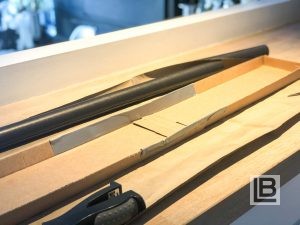 I started my cutting the lid of the box in half and used duct tape and a stapler to put it back together to form a long rectangular tray.  I ended up with a tray that is about 80cm long and 15 cm in width.  Remember that this is a recycled item so your box might not be the same size.  Then I wrapped it with black wrapping paper.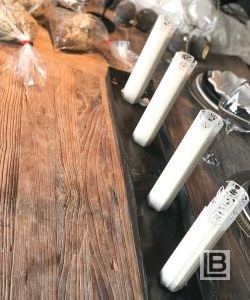 Here you can see the finished tray and I have positioned my candles.  (You can find these beautiful Spider candles from 2Villa.no)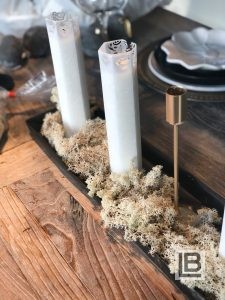 Start by filling your tray with the moss.  You can see that I have played with the idea of adding another candle to get more height but that didn't quite work for me and I ended up using the 5 spider candles only.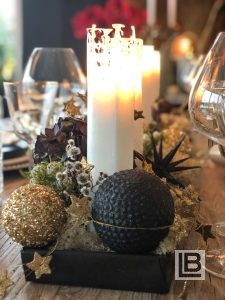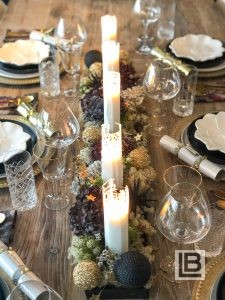 Now the fun part starts by filling in the gaps with all your styling items.  The first thing I did was to place my 4 x hydrangeas in between the candles.  Next up was the dried flowers, place them into those small gaps not covered by the hydrangeas or moss.
The baubles and cones are not just placed randomly in between.  If you look carefully, you will see the one black bauble at the top left-hand corner, whilst the other is at the bottom right-hand corner.  I like to work with symmetry and repeating patterns/objects.  Lastly, I weaved the star string through the tray by gently laying it on top of everything.
In Norway, this centerpiece will easily set you back at least Kr750 if not more.  My cost, Kr 99.
Cardboard lid – Recycled and free.
Wrapping paper – Leftover Christmas wrapping.
Christmas baubles, cones and gold star string – I used what I had, so no additional costs.
Candles – My friends know that I love the spider candle so all of these I got as gifts.  You do not have to use these candles and I know that everyone has a box of candles stored somewhere in their home over the Christmas period!
Moss – I bought 3 x packets of white moss at Plantasjen for Kr99.
 Hydrangeas – I had to make the original purchase of the hydrangeas and if memory serves me right, it cost me about Kr200.  I have had them for months so no additional expense on these.
Dried flowers – No additional costs.  Used what I had.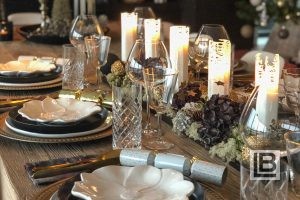 I would like to say that this centerpiece cost me nothing but we all know that at some stage I purchased these items.  The point is, look at what you have at home.  You are sitting with treasures that you don't even know you can use in your next masterpiece!
New Year is around the corner!!  Have you thought about your centerpiece yet??  I'm thinking, gold, silver or any bling-bling items leftover from your Christmas decorations!!  There is plenty cardboard boxes and wrapping paper ready to be recycled.  Dig around, find your treasures and make yourself a beautiful centerpiece to celebrate 2020!
Merry Christmas – God Jul !!
Happy New Year – God Nyttår !!